LOUISVILLE, Ky. (WDRB) — The Louisville Independent Business Alliance has launched a new website to make it easier for area residents to shop local online.
The site, ShopLocalLou.com, is sponsored by the Louisville Water Company, according to a news release. The site, "will feature dozens of local vendors selling on one site, and customers will be able to purchase from all in a single transaction."
Those purchased items will be available for curbside pickup or delivery. A shipping option will be made available soon.
The shop will offer a number of curated collections, including "Locally Crafted," "$25 Gifts," and "Black Owned Businesses," as well as a way to shop by neighborhood.
"We have people able to tag their products by neighborhood," said Jennifer Rubenstein, director of LIBA. "So if you want to check out some of the businesses that are in your neighborhood, that's great. Or you're like, you know, 'I haven't explored Clifton, or South Louisville,' or whatever it is, you can also shop by that neighborhood too."
Some of the participating retailers include A Taste of Kentucky, Southern Rustics, Christmas Club and dozens more.
To view a full list, CLICK HERE.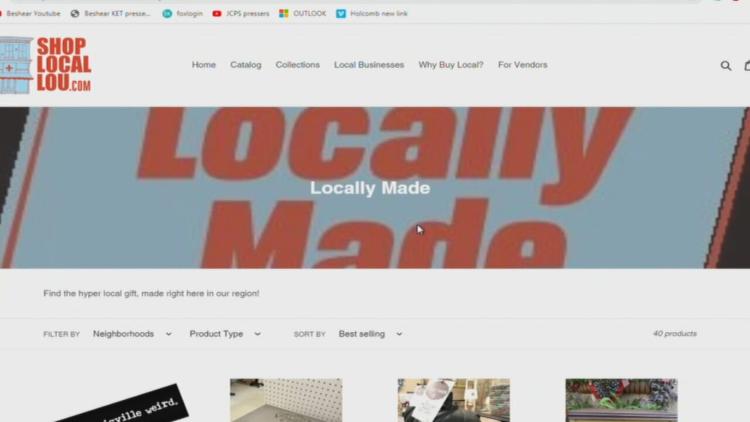 Entrepreneurs like Terri Burt, owner of Nitty Gritty, say the site is sorely needed.
"We're going to survive, and we're going to be fine," she said. "But Christmas would be a really nice time for shoppers to come out and support local businesses. We really need that little bump to get us through January, and February is going to be hard."
Rubenstein was more direct.
"I'm usually not so blunt, but Amazon and Walmart do not need your money," she said. "They are fine as they are. If you're looking to support your local businesses and your neighborhoods, then take a look at ShopLocalLou.com."
Burt said it's imperative that locally-owned businesses thrive in Louisville.
"It's everything. It's everything," she said. "If we're going to keep Louisville weird and unique from all the other cities, we cannot let these little stores go away. It's really time for us to shop local more than ever before."
Copyright 2020 WDRB Media. All Rights Reserved.