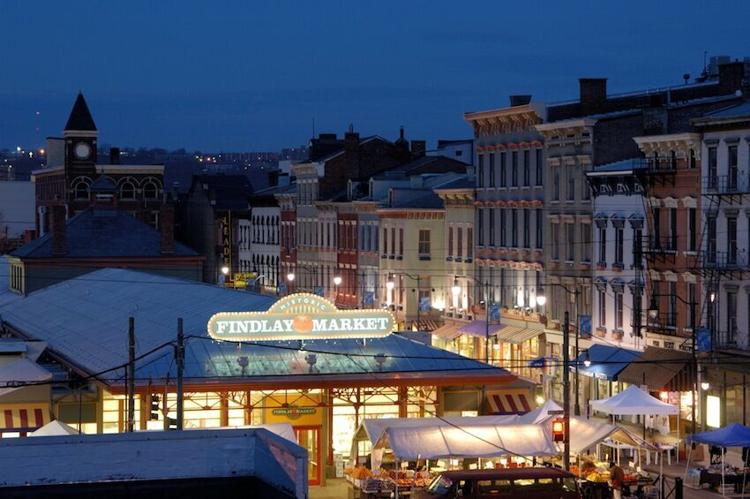 From coffee shops to clothing boutiques to nail salons, Cincinnati is filled with various small, locally owned businesses. These local shops are vital to the economy and appeal of Cincinnati. 
Areas like Over-The-Rhine (OTR) and Short Vine are defined by their blocks full of small businesses. These stores and restaurants are run for the community, by people from the community. Local business can, and has, become a massive part of a city's identity, like Cincinnati. The charm and familiarity of family-run or locally owned companies make up the Cincinnati area's culture. These businesses also provide jobs and affordable products to those in the community. The art store Indigo Hippo in OTR is an example of how a small business can be a huge service to those in the area. Their supplies are a fraction of the price the same materials would be at a larger chain store. With no corporate policies and prices to uphold, local businesses are often the smarter way to shop. 
Findlay Market is another example of the importance of local business. Sellers from the area can set up shop in Findlay Market and sell homemade goods and homegrown produce. This allows farmers, artists, craftsmen, beekeepers and more to continue doing what they do for the community. It also gives the Cincinnati area access to fresh produce, local honey and art from Cincinnati natives – all things you can't buy from any supermarket. 
In general, shopping locally has fantastic benefits for both the community and the buyer. Buying from businesses in your city or neighborhood means that your money, and tax dollars, are going directly back into where you live. The more money goes into your community, the more your community will grow and flourish. Further, small businesses are vital to the health of the environment. Huge stores and supermarkets often import products or buy goods/materials from factories. Locally grown produce and items completely cut out the long-distance transportation, commercial farming and factory use that big businesses often cannot avoid. 
It is especially important to shop locally during the COVID-19 pandemic, whenever possible. Unlike giant corporations, local shops often have much smaller pools of money for emergencies like this. With government mandates limiting building occupancies and some businesses forced to completely shut down for the early portion of 2020, many local companies are struggling. Ordering takeout or delivery, using curbside pickup services and shopping on local stores' websites are some ways you can continue to support local entrepreneurs amid COVID-19. 
Findlay Market has created an entirely new app that allows consumers to shop online and pick up the next day. Indigo Hippo is allowing customers to order online or on the phone. Joseph-Beth Books released a website to shop online. Spruce Nail Salon released merchandise online and gave a portion of all sales directly back to their staff until regular business resumes. 
Our current situation allows us to see how tightly knit of a community Cincinnati really is. When shopping locally, we can participate in and support our community.